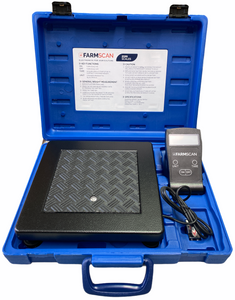 SOLD OUT - PRE ORDER
Next order due 1st week of December
Fantastic for calibrating your Air Seeder!
Easy to Use - Portable
The 2199's di-cast weighing platform is ideal for all types of general & agricultural use. It has 120kg capacity, is large enough to hold various size containers and features a handy weight display that's remote from the platform, making it easy to read in any situation.
A Tare key allows any containers to be quickly zeroed off prior to loading of sample weights, and the zero key can be used for minor trimming back to zero on consecutive loads.
Battery operated (9v Battery)
Complete with protective carry case
Totally portable, ready for accurate weighing in any location - scales can be left in the case while in use
Inbuilt "bubble level"
Adjustable screw feet for levelling
Maximum 120kg
20g increments
Still need assistance?
If you still can't find what you are looking for, fill in your details below and we'll get back to you within 24hrs. Phone support is available by calling our support line, however charges may apply for out of warranty Farmscan products.
100% Backed & Supported
All our products are 100% backed by the team at Farmscan & come with a 12month return to base warranty.
30-Days Money Back Guarantee
You can always have your money back if you are not satisfied with any Farmscan product.