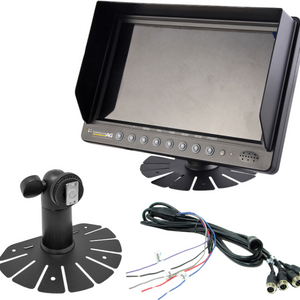 The Quad HD Monitor Kit (No Camera or Cables) 7" kit is commonly used for 2nd vehicle transfers or connect to existing cameras on other machines. There are no cameras or camera cables included in this kit.

The 7" Quad HD Monitor Kit includes: 

7" HD Quad Monitor v3 (Single cable solution) - 3100HD-K
Monitor Bracket - Fan Style - AH-3100
Monitor Bracket - "U" Mount Style 
Power & Camera Cable - 3100-PCC-HD
This kit does NOT include:
NB: This model will also work with old style Farmscan 3101 standard Cameras. However - The new style HD monitor does not allow for mix/match of old and new cameras.
The monitor allows you to select CVBS or 720P only. If you are unsure - please give us a call or email our friendly team to discuss further.

Looking for a complete kit with camera & cables? Check out our 7" HD Quad - 3100HD & the larger 9" HD Quad - 3109HD kits!