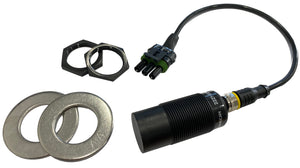 This replaces the A-2220P Bin/Tank Level Sensor
Replacement Bin Level sensor
This Bin/Tank level sensor also works with John Deere/Trimble/Raven.
However, please make a note when ordering so we can supply a modified cable to up the rail voltage.
This kit also includes 2x M30 locking nuts and 2x M30 Stainless steel washers to cover up existing sensors holes in the tank.
Specifications:
Capacitive sensor (solid or liquid)
65mm sensor length
30mm diameter
30cm Tail
Input voltage 12vdc
3.3v Trigger or 12v trigger with modified cable
WILL NOT WORK WITH 1020 AIRSEEDER BLOCKAGE MONITOR