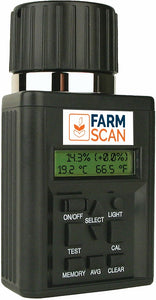 Measurement with the 2166 grain moisture meter is simple and fast. The meter is operated with any easy to use menu & button layout and has an easy to read backlit display that guides you whilst doing the measurements.

The meter is ready for measurement after one of the 40 grain 

types is selected.

Measurement is done by simply filling the 

test cell with grain, compressing it by the help of the cap 

of the meter and

 

pressing the test button.
Testing is ex

tremely quick and easy. After pressing test and waiting 10 seconds, the result appears along with the 

temperature of the grain sample. From there, you can test again, save it memory for averaging.
NB : The price point of the Farmscan 2166 cannot be compared to a $5,000-$15,000 Grain Analyser. 

This product is made by AgraTronix LLC - USA & can also be found branded as CASE/NEW HOLLAND/JOHN

 DEERE

/AGRETO/SPAREX/WILE & OTHERS.
Features
Direct readout for 40 different grain scales

Backlit display for night time use

Built-in calibration button for displaying the average of saved test results

Simple & Advanced user calibration modes available

Multi-language display

Higher-frequency, capacitive circuit improves accuracy

Carry case included

Specifications
Moisture range: 5% to 40% depending on grain tested

Temperature range: 32° to 113°F (0° to 45°C)

Repeatability & Accuracy: ± 0.5% in normal moisture range for stored grain

Display Resolution: 0.1% moisture

Two 9 volt batteries required (Not included)

Alfalfa, Barley, Beet, Buckwheat, Canary, Clover: Purple, Clover: White, Corn: High Moisture, Corn: Low Moisture, Dactyl, Fescue, Flax (Linseed), Lentils, Lupins: Yellow, Millet, Mustard, Navy Beans, Oats, Peanuts: Spanish, Peas: Fodder, Peas: Green, Peas: Yellow, Phleum, Popcorn: White, Popcorn: Yellow, Rapeseed (Canola), Rice: Long, Rice: Medium, Rye, Rye Grass, Safflower, Sorghum (Milo), Soybeans, Sunflower, Sunflower: Stripe, Triticale, Wheat: Durum, Wheat: Hard Red Spring, Wheat: Hard Red Winter, Wheat: Soft Red Winter, Wheat: White
Watch the product in action!
Looking to purchase a Farmscan Digital Grain Moisture Meter, but want to see it in action? Check out the video below.
Still need assistance?
If you still can't find what you are looking for, fill in your details below and we'll get back to you within 24hrs. Phone support is available by calling our support line, however charges may apply for out of warranty Farmscan products.
100% Backed & Supported
All our products are 100% backed by the team at Farmscan & come with a 12month return to base warranty.
30-Days Money Back Guarantee
You can always have your money back if you are not satisfied with any Farmscan product.