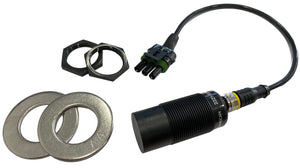 Specifications:

Capacitive sensor (solid or liquid)
65mm sensor length
30mm diameter

30cm Tail
Input voltage 12vdc
3.3v Trigger or 12v trigger with modified cable
Suitable for:

Jackal-Monitor - Jackal Monitor Kit Only (No Sensors)
Jackal-Area - Jackal Area Meter
Jackal-Tach - Jackal Tacho/RPM Meter
2200
Canlink 3000
Canlink 3500
This Bin/Tank level sensor also works with Trimble. This kit also includes 2x M30 locking nuts and 2x M30 Stainless steel washers to cover up existing sensors holes in the tank.
This will not work with a John Deere/Raven system. Must use A-2221-JD

This will not work with our 1020 Airseeder Blockage Monitor.