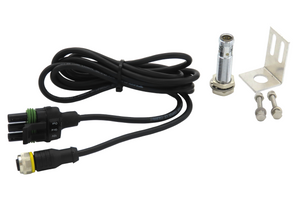 Proximity Sensor Only - Allows speed pickup or rpm off any moving metal part (eg bolt head) 
NPN Style (Square 200mAmp)
M12 Thread
4mm Sensor Distance
10-30VDC
3 Wire (Power, Ground, Signal)
Packard Connector
Detachable tail from sensor
Locking nuts
AH-300 - Mounting bracket
Used in Jackal-Area, Jackal-Tach & Jackal-Monitor kits.
Can be used with any older Farmscan equipment.
Please note that this 3 wire & requires a power input. The Jackal can provide 12v out.
Still need assistance?
If you still can't find what you are looking for, fill in your details below and we'll get back to you within 24hrs. Phone support is available by calling our support line, however charges may apply for out of warranty Farmscan products.
100% Backed & Supported
All our products are 100% backed by the team at Farmscan & come with a 12month return to base warranty.
30-Days Money Back Guarantee
You can always have your money back if you are not satisfied with any Farmscan product.